Watch Narayana Peesapaty & his Team demonstrate a Tasty & Eco Friendly Innovation - Edible Cutlery !!! Read on...
Dearest friends and investors,
I just came across a video about a product which is so innovative and awe inspiring that I wanted to share it with all of you.
We need more and more people to give cost effective, eco friendly solutions so that Mother Earth can be preserved for a long long time to come.
I wish Bakeys all success in the times to come. Proud that an Indian team has contributed yet again :-)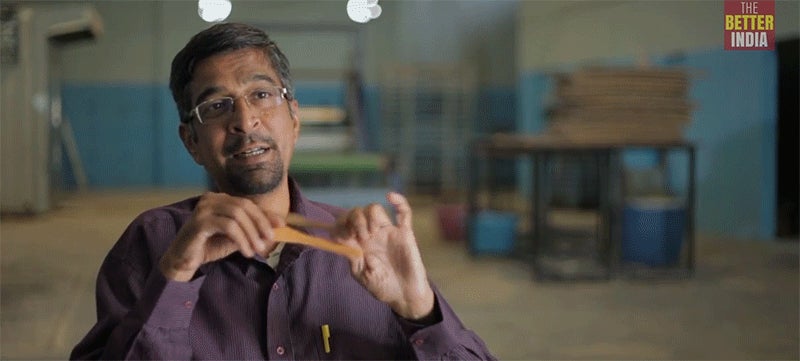 Are you ready to watch this amazing thought process??
Watch this video and share it with more and more people.
Click here for their Facebook page
A small note about the founder, Mr Narayana Peesapaty, who is an inspiration for many many people. (Taken from their website www.bakeys.com)
A former researcher with ICRISAT – Narayana was the one to come up with the idea of Edible Cutlery. He holds BSC (Hons) in Chemistry from Osmania University and MBA from IIFM- Bhopal.
He worked as Associate Research Director at AC Neilsen ORG-Marg, Baroda, India and had undertaken over 50 consulting assignments related to agriculture and Agri-based industries, forestry and forest based cottage industries, rural development, renewable energy technologies, etc. and headed the energy and forestry sector.
Later he joined International Water Management Institute (IWMI), based in the premises of International Crop Research Institute for Semi Arid Tropics (ICRISAT), Hyderabad as Senior Scientific Officer.
Here he undertook research on the nexus between energy and groundwater under a USAID supported program WENEXA. Published several policy and research papers on groundwater management and associated issues such as Minimum Support Prices supporting development of groundwater irrigation intensive agriculture, need for groundwater legislation, inputs to the Andhra Pradesh Water Land Tree act 2004, etc.
He is the Founder and Managing Director of Bakeys Foods Private Limited- - Developing innovative solutions (grounded on business model) to growing environmental problems, managing the operations, developing the team and all associated functions required for running the Company.
He believes that the "Change is inevitable. Before this change can overtake and overwhelm us, we should be the instruments of change". He created this business to disprove the conventionally known fact that environmental safeguarding and social responsibility rarely integrate with sound business process". He says, "for Bakeys Foods, environmental and social amelioration is the business".